Characteristics of the organizational learning and learning community in Waldorf schools in the light of the innovator's mindset
Tímea Mészáros

J. Selye University

Vilmos Vass

associate professor
Keywords:
organizational learning; learning community; professional learning community; innovator's mindset; Waldorf-pedagogy
Abstract
This paper analyses the characteristics of organizational learning and learning community in the light of the innovator's mindset, especially some phenomena on Waldorf-pedagogy. Our key questions: How can become innovation mindset into the organizational culture? Introducing Senge's concept, 7C modell of professional learning community and characteristics of innovator's mindset allows to create the modell of development- and progression-centered implementation. This modell has some fundamental elements: creativity, courage (risk-taking), collaborative learning, reflexion, observation. These are coherent elements, organizational learning adds creativity and innovation. We introduce interpretations and phenomena of learning community at a Waldorf-school, especially personalized treatment, culture of collaboration and results-orientation. Innovation is a significant part of the organizational culture in Waldorf-pedagogy. In our conclusion, we emphasize the human factors.
References
A magyar Waldorf-iskolák kerettanterve az általános iskola 1-8. évfolyama számára (2020). Web: https://waldorf.hu/wp-content/uploads/WALDORF-KERETTANTERV-2020-1-8.pdf
A solymári Fészek Általános Iskola, Gimnázium és Alapfokú Művészeti Iskola Szervezeti és Működési Szabályzat (2016). Web: http://feszekiskola.hu/dokumentumok
Amico, B. (2019). Responsible Innovation in Education. Web: https://www.waldorfeducation.org/news-resources/essentials-in-education-blog/detail/~board/essentials-in-ed-board/post/responsible-innovation-in-education
Argyris, C. – Schön, D. A. (1978). Organizational Learning, Addison-Wesley, Reading, MA. doi: 10.2307/40183951
Bakacsi Gy. (2010). A szervezeti magatartás alapjai. Alapszakos jegyzet a Budapesti Corvinus Egyetem hallgatói számára. AULA Kiadó, Budapest.
Boland, N. (2017). A Sense of Place within the Waldorf Curriculum. Web: https://www.waldorf-resources.org/single-view/a-sense-of-place-within-the-waldorf-curriculum
Couros, G. (2015). The Innovator's Mindset. Dave Burgess Consulting, Inc. San Diego, CA.
Denjean, A. (2014). Curricula in Kiswahili, Arab, French ... Journal of the Pedagogical Section, 51, 19-22.
De Geus, A.(1988). Planning as Learning. Harvard Business Review, March–April 1988, 70–74
DuFour, R. (2004). What is a "Professional Learning Community"? Educational Leadership, 61. 8. 6–11.
DuFour, R., DuFour, R., Eaker, R. & Many, T. (2010). Learning by Doing. A handbook for Professional
Dweck, C. S. (2015): Szemléletváltás – A siker új pszichológiája, HVG Könyvek, Budapest
Edmondson, A. C. – Moingeon, B. (1996). When to Learn How and When to Learn Why: Appropriate Organizational Learning Processes as a Source of Competitive Advantage. In: Edmondson, A. C. – Moingeon, B. (Eds.) (1996). Organizational Learning as a Source of Competitive Advantage. Sage, London.
Fadel, C.-Bialik, M.-Trilling, B. (2015): Four-Dimensional Education. Center for Curriculum Redesign, Boston, MA.
Fazekas Á. , Horváth L. & Baráth T. (2015). Az iskolák tanulószervezeti működésének modellje. In. Új kutatások a neveléstudományokban 2015. szerk: Tóth Péter – Hollik Ildikó. MTA PEDAGÓGIAI TUDOMÁNYOS BIZOTTSÁGA, ÓBUDAI EGYETEM, ELTE EÖTVÖS KIADÓ, Budapest, 2016. 23-33.
Fészek Waldorf Iskola, Általános Iskola és Gimnázium szervezeti felépítése. Web: http://feszekiskola.hu/szervezet
Fiol, C. M., Lyles, M. A. (1985). Organizational Learning, Acadaemy of Management Review, 1985. (Vol. 10.), No. 4
Garvin, D. A. (1993). Building a Learning Organization. Harvard Business Review, July–August, 1993. 78–91. o.
Hedberg, B. (1981). How Organizations Learn and Unlearn. In: NYSTRÖM, P. C. – STARBUCK, W. H. (eds.) Handbook of Organizational Design, Vol. 1, 1981, University Press, Oxford.
Hord, S. M., Sommers, W. A. (2008): Leading Professional Learning Communities. Voices from Research and Practice. Corwin Press, California, 184 o. Learning Communities at Work. Solution Tree Press, Bloomington.
Horváth L. (2013). A tanulást támogató iskolai szervezet hatása a tanulói eredményességre. Web: https://www.researchgate.net/publication/236221747_A_tanulastamogato_iskolai_szervezet_hatasa_a_tanuloi_eredmenyessegre doi: 10.13140/RG.2.1.4382.2963
Horváth L. (2019). A felsőoktatási intézmény mint tanulószervezet. PhD disszertáció. ELTE PPK: Budapest. Web: https://ppk.elte.hu/dstore/document/111/Horvath_Laszlo_disszertacio.pdf doi:10.15476/ELTE2019.092
Klein S. (2006). Tanulószervezet a tanulótársadalomban. A Borsod-Abaúj-Zemplén Megyei Pedagógiai Szakmai és Szakszolgálati Intézet által szervezett Tanulószervezet – eredményes oktatás? című konferencia, 2006. november 28–30. Web: https://ofi.oh.gov.hu/tudastar/tanuloszervezet-tanulo
Lindenberg, Ch. (2004). Waldorf-iskolák. Török Sándor Waldorf-pedagógiai Alapítvány, Budapest.
Mészáros T., Egervári, J. (2021). A place-based projektek sajátosságai a kreativitás kontextusában a Waldorf-pedagógián keresztül. OxIPO - interdiszciplináris tudományos folyóirat, 2021/1, 21-45. doi: 10.35405/OXIPO.2021.1.21
Roberts, S. M., & Pruitt, E. Z. (2009). Schools as Professional Learning Communities. Thousand Oak: Corwin Press.
Segédanyag a Waldorf-intézményben tanfelügyeleti ellenőrzést vagy pedagógusminősítést folytató szakértők számára (2019). Web: https://www.oktatas.hu/pub_bin/dload/sajatoldal/Segedanyag_szakertoknek_Waldorf_2019.06.pdf
Senge, P. M. (1998). Az 5. alapelv. HVG Rt, Budapest, 1998, 5. o.
Szász J. (2019). Alternatívák. Pedagógiai értékelés a Waldorf-iskolákban. Web: http://padi.psiedu.ubbcluj.ro/wp-content/uploads/Magiszter-2019_1_39-56.pdf
Vass V. (2008). A Nemzeti alaptanterv implementációja. Összeállította: Vass Vilmos. Az anyag összeállításában közreműködtek: Báthory Zoltán, Brassói Sándor, Halász Gábor, Mihály Ottó., Perjés István., Vágó Irén. (2008). Budapest, 2008. március http://www.nefmi.gov.hu/letolt/kozokt/nat_implement_090702.pdf
Vass, V. (2009). Implementations of key competencies and school improvement. In: Baráth, T. és Szabó, M. (szerk.): Does Leadership Matter? Implications for Leadership Development and the School as a Learning Organization, Nemzeti Tankönyvkiadó, Szeged, 117-129. o. Vass, V. (2012). A kreatív iskola. ANYANYELV-PEDAGÓGIA http://www.anyanyelv-pedagogia.hu/cikkek.php?id=374
Vass, V. ( 2018). The Impact of Professional Learning Community and Collaboration in Higher Education R&E-SOURCE Special Issue #12: September pp. 1-5. , 5 p.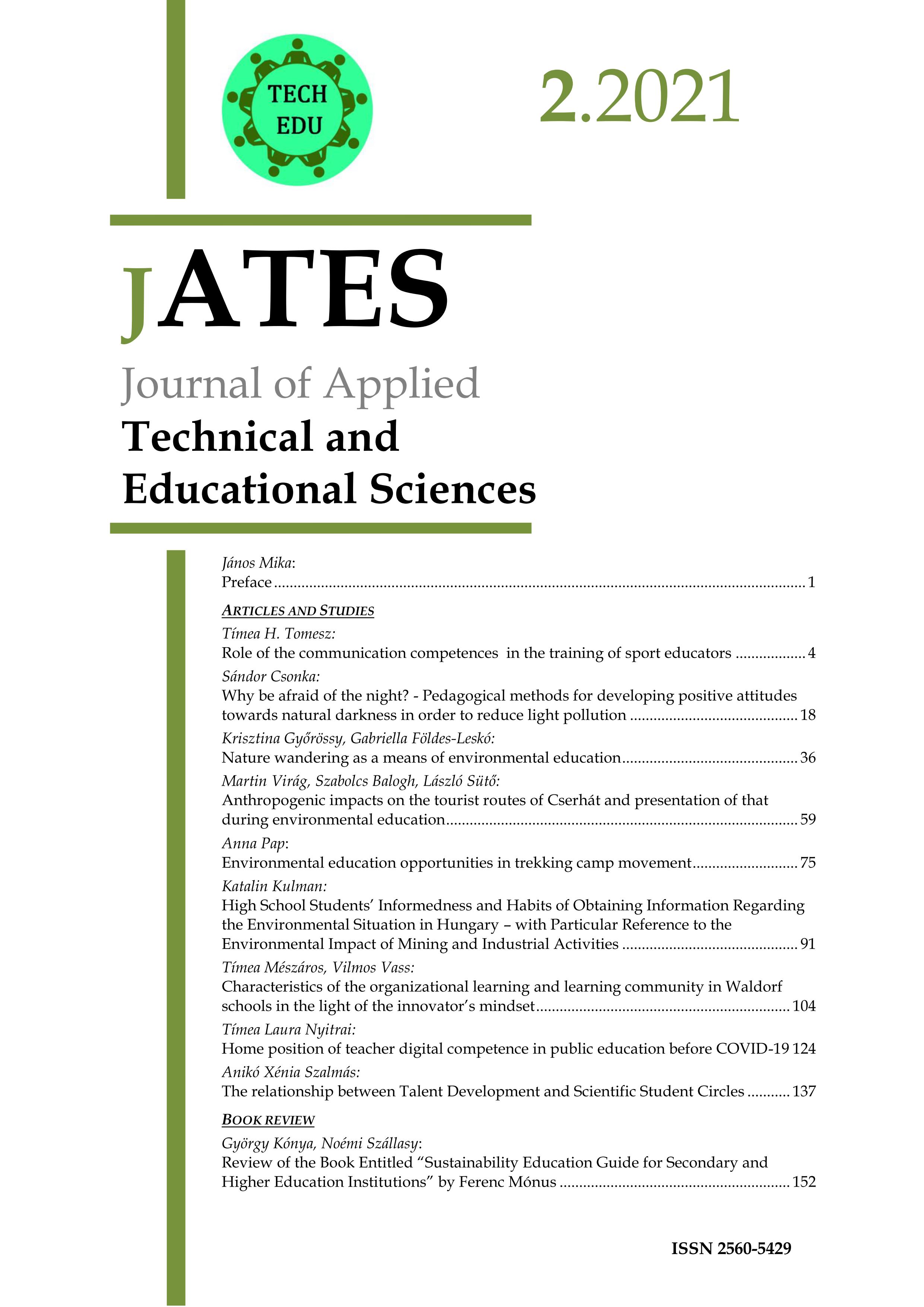 How to Cite
Mészáros, T., & Vass, V. (2021). Characteristics of the organizational learning and learning community in Waldorf schools in the light of the innovator's mindset. Journal of Applied Technical and Educational Sciences, 11(2), 104-123. https://doi.org/10.24368/jates.v11i2.257
Section
Articles and Studies
Copyright (c) 2021 Journal of Applied Technical and Educational Sciences
This work is licensed under a Creative Commons Attribution 4.0 International License.
The submitting author warrants that the submission is original and that she/he is the author of the submission
together with the named co-authors; to the extend the submission incorporates text passages, figures, data or
other material from the work of others, the submitting author has obtained any necessary permission.
Articles in this journal are published under the Creative Commons Attribution Licence (CC-BY), the author retains
the copyright. By submitting an article the author grants to this journal the non-exclusive right to publish it
(e.g., post it to an institutional repository or publish it in a book).